Conservatory Awning

VZ520 - MAKE EVERY GLASSROOF SUNPROOF
The VZ520 conservatory awning or sunroof is one of the few awning designs on the global market today that has stood the test of 30 years of technical revolution and constant changing demands making it the most renown and solid product in our awning range today.
The VZ520 is manufactured from high-quality materials and is custom designed and fitted with stainless steel brackets on top of conservatories to reduce heat, radiation and to provide shading up to 25sqm per field.
The space between the glass and the awning allows good air circulation so that any heat between the glass surface and the awning is constantly carried away before it can accumulate. Repells summer heat and allows in warm winter sun all at the touch of a button.
Key Features and Benefits
High quality wheeled runner system ensures an almost noiseless operation 
Rounded headbox, runners and front rail to match for timeless effect 
Units can be joined together making the width almost unlimited 
Optional sun, wind, rain and motion sensors for the ultimate in comfort 
Aluminium frame can be powder coated to match existing schemes 
The wheeled runner system ensures for almost noisless operation 
Choice from a broad range of fabrics to mix and match 
Full 5 year warranty included
JUST RITE's Recent Work Examples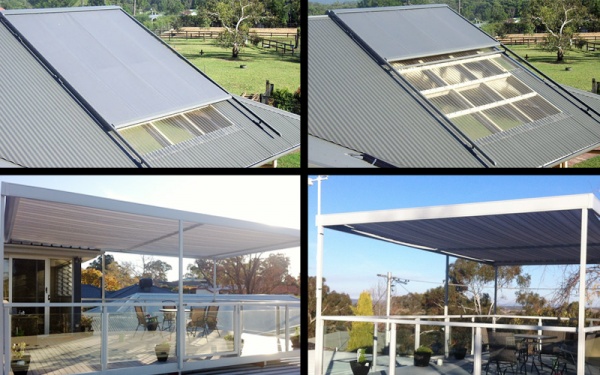 Technical Features
Harol conservatory awnings can be joined together making the possible width nearly unlimited.

Give Just Rite a buzz at 02 6280 5300 between 7:30am - 5:00pm, Mon-Fri